ABOUT ME
My love for jumping started at a young age. I was one of those lucky little girls that lived on a farm in the country and had her own pony. My pony would jump logs when we were trail riding and I quickly became hooked.
I wanted to Event even before I knew what the sport was.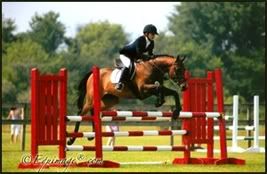 As a rider, I am described as fearless, tenacious, ambitious, and determined. I have worked extremely hard to get to where I am in my equestrian career and have ambitious goals. My horse, Mickey, and I will be moving up to Preliminary this spring and working towards doing a Preliminary Three Day or Classic Long Format Event this fall.

I want to compete at the upper levels of the sport but I lack the funding to get the education, equipment, and experience to get there. This is why I need your help.

Currently, I commute to Miami University, as a full time student, while working as many as four jobs to fund my passion. I am working towards a Bachelor's Degree in Scientific and Technical Communications. College has been an incredibly hard process for me because I would rather be out "doing" instead of sitting in a classroom. It took me a long time to find a major that potentially could allow me to work around my riding schedule.